Shopping Cart
Your Cart is Empty
There was an error with PayPal
Click here to try again
Thank you for your business!
You should be receiving an order confirmation from Paypal shortly.
Exit Shopping Cart
Due to the arrival of COVID on our shores we had to postpone our big annual concert and rehearsals are on hold until Auckland drops to COVID Alert Level 2.

Last Night of the Proms is now scheduled for Friday 26th November at 7:30 pm
We really hope we will be able to go ahead with it this time and we expect a full house if it does.
Come and join the North Shore Concert Band for a celebration of the Best of British.
Sunday 29th August 2pm
The PumpHouse Theatre, Takapuna
The band will be playing a number of time-honoured favourites such as 'Land of Hope and Glory', 'Nimrod' and 'Jerusalem' plus some great show-tunes and other classics. They will be joined on stage by the very talented Michael Jamieson, principal saxophonist for the NZ Navy Band, who will also be bringing his bagpipes for 'Highland Cathedral'.
We encourage you to dress in your red, white, and blues and bring your singing voices for what we hope will be a very fun afternoon!
Tickets available from https://pumphouse.co.nz/whats-on/show/last-night-of-the-proms/

Unfortunately there is too much wind for an outdoor concert today so we have had to cancel.
Our annual concert at the PumpHouse Theatre entitled Exultation! A Musical Celebration held on November 15th at the PumpHouse Theatre in Takapuna was a great success.
We had a really good number of audience members who all seemed very appreciative of our performance.
We feel very privileged to be able to perform at all in 2020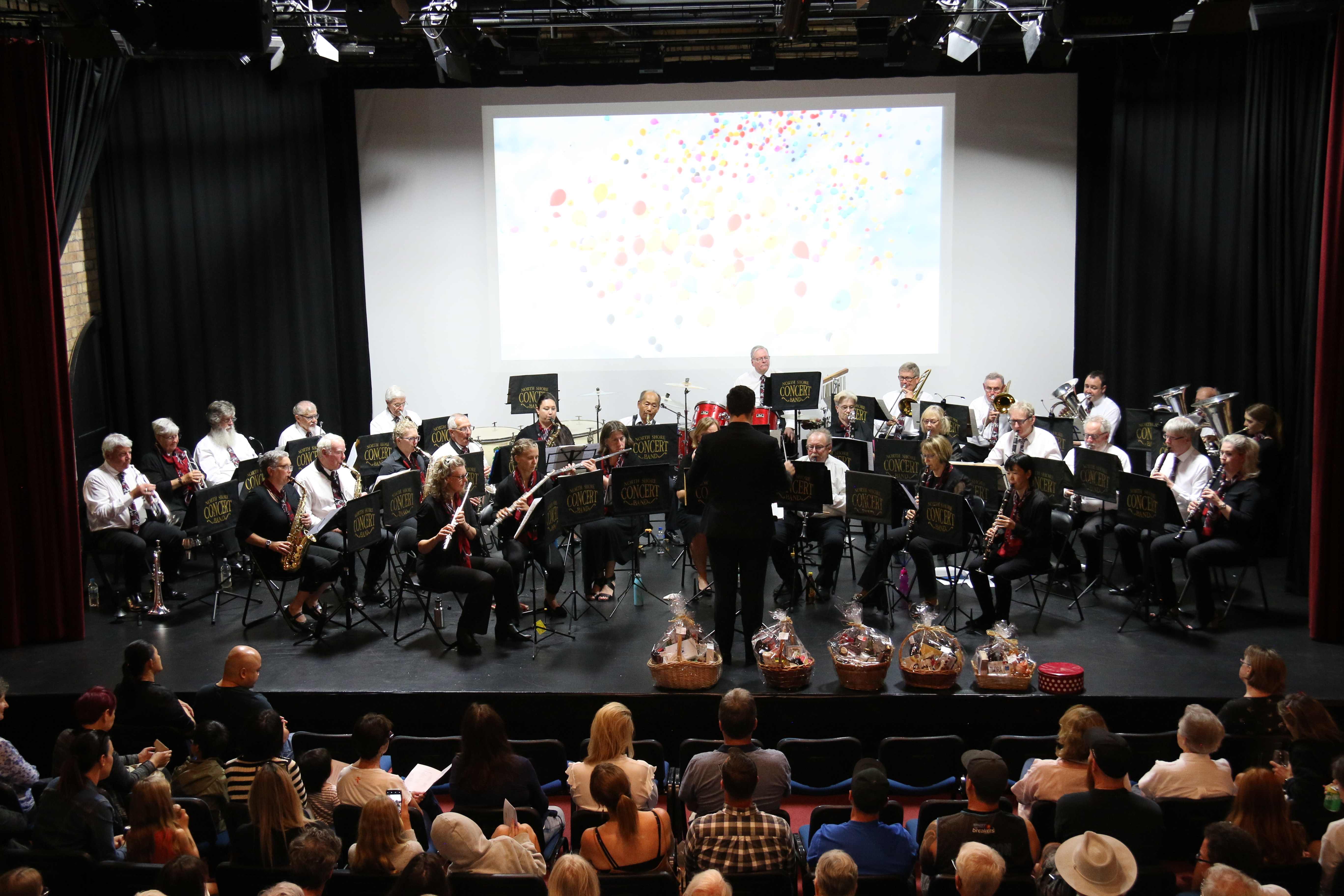 Rehearsals are sounding great and we are really looking forward to our first concert since lock-down.
Here is the programme:
Exultation! (Philip Sparke)
Selections from Sound of Music (R Rodgers, arr. Jim Christiansen)
Eine Kleine Nachtmusik Movement 1 (W.A. Mozart, arr. T Birkett)
I Left my Heart in San Francisco (George Cory and Douglass Cross, arr. Alfred Reed)
Satin Doll (Duke Ellington, arr. Bob Lowden)
Memory (Andrew Lloyd Webber, arr. Bob Lowden)
Mercy, Mery, Mercy (Josef Zawinul, arr. Jerry Nowak)
Sunrise, Sunset (Sheldon Harnick and Jerry Bock, arr. Bob Lowden)
Malaguena (Ernesto Lecuona, arr. Jerry Nowak)
Theme from Cabaret (John Kander and Fred Ebb, arr. Jerry Nowak)
The Dam Busters March (Coates, arr. Duthoit W)
Symphony No. 9 (Anton Dvorak, arr. James Curnow)
Girl with the Flaxen Hair (Debussy, arr. Michael Brand)
Come Fly with Me (James Van Heusen, arr. Paul Murtha)
Bohemian Rhapsody (Freddie Mercury, arr. John Berry)
Georgia On My Mind (Hoagy Carmichael, arr. J Higgins)
Hoagy Carmichael in Concert (Hoagy Carmichael, arr. Warren Barker)
What a Wonderful World (George David Weiss and Bob Thiele, arr. Bob Lowden)
There were times when it seemed that this wasn't likey to happen, but we are practising hard for our big Annual Concert at the lovely PumpHouse Theatre in Takapuna.
This time we have called it 'Exultation! A Musical Celebration' and features a programme of exciting and uplifting music to help take us away from the daily worries of life.
The programme will feature a wide variety of music from marches to musicals, with pieces by Mozart, Queen, Debussy, Hoagy Carmichael, and more. We will open with the wonderful (and challenging to play)  'Exultation!' by Philip Sparke
Sunday 15th November at 2pm
Tickets are available now from www.pumphouse.co.nz
The North Shore Concert Band, like so many other things, has been on an enforced break since mid March due to the global pandemic.
But we have just received the very welcome news that we are now able to return to our practice venue, so we will be back making music together from Tuesday June 9th - bring it on!

We are very excited to be performing our big annual concert this Sunday.
Tickets will be available on the door.
Details:
2pm Sunday 8th September at The PumpHouse Theatre in Takapuna
www.pumphouse.co.nz

Join the North Shore Concert Band on a musical exploration of Frontiers: Past and Future, from the wild west to outer space.
The programme will include excerpts from Holst's Planet Suite, the music of Star Trek, popular themes from the old Westerns, and much more. The band will also be joined on stage by special guest artist Marika Balzat on violin.
 
Programme:
The Wild Westerns arr. Michael Story
Sea Songs R. Vaughan Williams
Hot Latin arr. John Wasson
Sax Serenade Ira P. Schwarz
Swiss Alps performed by Darrell Daglish
How to Train your Dragon John Powell arr. Sean O'Loughlin
Hobbits Hymn Johan De Meij
Army of the Nile Kenneth J. Alford
Out of Africa John Barry arr. Johan de Meij
Songs of Israel Traditional arr. Anne McGinty
Cinema Paradiso (with violin) arr. Robert Longfield
Czardas (with violin) Vittorio Monti arr. Andrew Glover
 
Clarinets on the Shore clarinet choir performance
Cole Porter on Broadway arr. Warren Barker
The Music of the Night Andrew Lloyd Webber arr. Bob Lowden
Come Fly with Me James Van Heusen arr. Paul Murtha
Stairway to Heaven Led Zepplin arr. Frank Erickson
Mars Gustav Holst arr. Jay Bocook
Venus Gustav Holst arr. Calvin Custer
Jupiter Gustav Holst arr. Calvin Custer
When the Stars Began to Fall Traditional arr. Fred. J Allen
Symphonic Suite from Star Trek Michael Giacchino arr. Jay Bocook
The North Shore Concert Band is very excited to be hosting the next Band Weekend on behalf of the NZ Concert Band Association and featuring Musical Director Peter Thomas.

This will be running from Friday evening to Sunday afternoon on the weekend of 14th - 16th June.
Registrations are now open!
If you would like to take part you can sign up at nzcba.org/band-weekend-2019
Just click on the REGISTER NOW link and fill in the form.
The cost for the weekend is $60
Time commitment: It is a very full on but rewarding weekend. You will need to be available on the Friday evening, all day Saturday (something like 9am – 5pm) and most of Sunday (like 9am – 3pm) .
What will happen:
Friday evening - everyone will assemble for the first time and have a first run through of the music (which will hopefully be sent out in advance).
Saturday - will be spent rehearsing the music, some of that time will be spent in section rehearsals. There is usually an optional group dinner on the Saturday evening.
Sunday – More rehearsals in the morning followed by a concert in the afternoon, which is usually free / gold coin donation for anyone who wants to come and listen.
Musical Director: Peter Thomas, Musical Director of the Auckland Symphony Orchestra and, many years ago, of the North Shore Concert Band.
Why is it good? By the end of the weekend your musicianship will have gone up several notches, you will have met and learned from lots of great people from all over the country, and you will have performed in a really good concert.
Sunday 5th May 2-3pm, The Poynton Takapuna
Sunday 19th May 2-3pm, Evelyn Page Orewa
Friday 14th – Sunday 16th June, Hosting the NZCBA Band Weekend at Birkenhead College

Friday 2nd to Sunday 4th August, NZCBA Festival (Diocesand School Auckland)
Sunday 25th August, Selwyn Village
Sunday 8th September 2-4pm, The Pumphouse Theatre
0

/