Shopping Cart
Your Cart is Empty
There was an error with PayPal
Click here to try again
Thank you for your business!
You should be receiving an order confirmation from Paypal shortly.
Exit Shopping Cart
Sunday 5th May 2-3pm, The Poynton Takapuna
Sunday 19th May 2-3pm, Evelyn Page Orewa
Friday 14th – Sunday 16th June, Hosting the NZCBA Band Weekend at Birkenhead College

Friday 2nd to Sunday 4th August, NZCBA Festival (Diocesand School Auckland)
Sunday 25th August, Selwyn Village
Sunday 8th September 2-4pm, The Pumphouse Theatre
We are excited to announce that tickets are now on sale for our 40th Anniversary Concert at the PumpHouse Theatre in Takapuna.
Tickets can be purchased from band members or online https://pumphouse.co.nz/whats-on/show/40th-anniversary-celebration/" target="_blank">here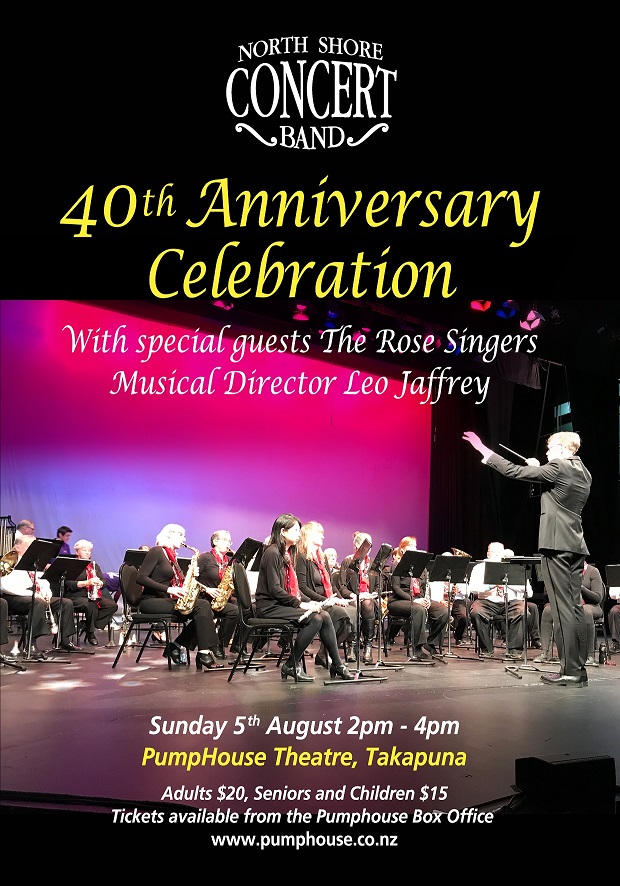 A goodbye (for now)
We would like to wish our amazing Muscial Director Alex Eichelbaum all the best as he heads off to Europe. We hope to see him back intermittently next year.
And a big welcome
To Leo Jaffrey who is taking over the role of Musical Director. He will be conducting our next concert in Browns Bay.
Current bookings:
Saturday 2nd December 3 - 5pm - Browns Bay Phoenix plaza (before the Santa Parade)
Sunday 18th February 4-6pm - Browns Bay beachfront
Sunday 11th March 2pm to 4pm - Waiake
Sunday 25th March 2pm to 4pm – Kensington Park
 
Sunday 5th August 2pm to 4pm - PumpHouse Theatre - 40th Anniversary concert!
Our annual concert at the wonderful PumpHouse Theatre is just around the corner.
We are now fully concentrating on this, having just come back from our first performance at the national NZ Concert Band Association Festival in Whangarei, which was a fantastic experience all round.
This year we are playing music from all around the globe from 'Out of Africa' to 'An American in Paris', stopping over for some Arabian Nights with Rimsky-Korsakov's 'Scheherazade' and travelling through a variety of musical styles before returning home to NZ with the lovely 'Hine e Hine'.
The Ad Augusta Headmaster's School Choir from Mount Albert Grammar School will also be performing.
For all the latest news (updated more frequently than here) please check out our facebook page at
https://www.facebook.com/nscbnz/
Our current list of concerts:
Sunday 12th March, 2-4pm, Browns Bay beachfront, by the playground
Sunday 26th March, 1-3pm, Cornwall Park
Sunday 9th April, 2:30 - 3:30pm, Northbridge Retirement Village
We are very pleased to be returning to the Northbridge Retirement Village in April as we haven't played there for a while.
However, the Kensington Park concert on March 19th has been cancelled. We hope to play there later in the year.
The North Shore Concert Band will be back from summer holidays on Tuesday 31st January and we'll be practising for a set of summer concerts in March:
Sunday 12th March, 2-4pm, Browns Bay
Sunday 19th March, 4-6pm, Kensington Park, Orewa
Sunday 26th March, 1-3pm, Cornwall Park
Looking forward to getting back into it!
Our final event of the year is Christmas carols at Albany Lakes. 
They have a big line up of happenings on stage from 3pm - 8pm. We will be there from 4:45 to 5:30.
Event details here
Merry Christmas everyone!
We are very much looking forward to playing our first concert at the beautiful Auckland Botanic Gardens on Sunday 20th November.
Here is the planned programme:
Fanfare for the Common Man
Mancini Spectacular
Sinatra in Concert
Abba in Concert
Bond, James Bond
Boogie Woogie Bugle Boy
American in Paris
La Cumparsita
Take Five
What a wonderful World
Chattanooga
Come Fly With Me
Hot Latin
Highlights from Chess
Copacabana
Georgia on my Mind
Puttin on the Ritz
Hymn for Band
YMCA
It's been way too long since our last post.
Since then we have welcomed Alex Eichelbaum as our new Musical Director and we are now working towards our big annual concert at the PumpHouse Theatre in Takapuna, which will be a celebration of great music from Movies and Musicals spanning a number of decades.
Our PumpHouse concert has sold out for the previous two years and we are really looking forward to this one on Sunday August 7th at 2pm.
Tickets are now on sale at www.pumphouse.co.nz
See the poster on our home page for details.

The North Shore Concert Band is looking for a new Musical Director! We will be auditioning late March / early April so if you're interested or know anyone who might be - please get in touch.
In the meantime you can catch our current MD, the marvellous Mike Ashton, waving a stick at us for the last time this Saturday (Feb 27th) between midday and 2pm at the Browns Bay Village Green.
/